Sasural Simar Ka 2: Gagan passionate kiss to Aditi Simar smell foul play (Upcoming Twist)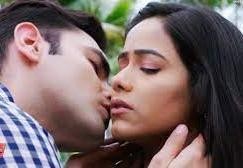 Sasural Simar Ka 2: Gagan kisses Aditi
Star Plus show Sasural Simar Ka season 2 is revolving around Simar's journey in Oswal House.
It seems that Aditi will meet Gagan secretly as the two have fallen in love with each other.
Gagan will pull Aditi towards her and will try to kiss her but Aditi will pull herself back as she feels uncomfortable.
Later Gagan will make Aditi realise that they are in love and this is not wrong.
However Aditi will not agree with Gagan and therefore just hugs him and leaves.
Simar will watch this from her room and gets suspicious towards the two.
Gagan Aditi love affair ahead
She will hide this from Aarav as she doesn't want to cause any drama in their life.
Will Oswal family come to know about Gagan and Aditi's love affair or not?
Stay tuned to this space for more updates.