Sasural Simar Ka 2: Vivaan commits suicide to threaten Geetanjali (Upcoming Twist)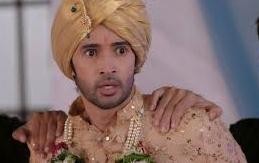 Sasural Simar Ka 2: Vivaan attempts to commit suicide
Star Plus show Sasural Simar Ka season 2 is gaining a lot of attention due to its storyline.
It was earlier seen that Vivaan wants to marry Reema but Geetanjali is against the union.
She will lock Vivaan in his room but mistakenly Simar will open the door and he escapes.
Later the Oswal family will try to stop him from escaping but Vivaan will take an oil bottle in his hands and will pour it over his body.
He will threaten the family that he will commit suicide by setting himself on fire if anyone tries to stop him from leaving.
Vivaan obsessed with Reema
This is going to be a major turning point in Vivaan's family as he is ready to face death but not live without Reema.
Will Oswal family be able to accept Reema or not?
Stay tuned to this space for more updates.
Latest Sasural Simar Ka 2 Updates