Mehndi Hai Rachne Waali: Jaya gives Pallavi credit for Raghav's recovery Kirti irked (Upcoming Twist)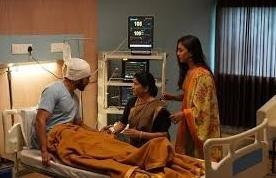 Mehndi Hai Rachne Waali: Jaya praise Pallavi in front of Raghav
Star Plus show Mehndi Hai Rachne Waali is revolving around Raghav's critical condition.
It seems that Raghav will come out of danger and will be happy to see his family around him.
Jaya will go to meet Raghav and will make him realise that Pallavi really served him well as a wife and took good care of him when he was not conscious.
Jaya will tell Raghav how Pallavi arranged for his blood and got it on time to save his life.
Jaya highly impressed with Pallavi
Kirti on the other hand will get irritated with her mother and her praises and makes her realise that Raghav when to hospital because of Pallavi.
Will Kirti be able to overcome her hatred towards Pallavi or not?
Stay tuned for more updates only on Serialxpress.com.
Latest Mehndi Hai Rachne Waali Updates