Sasural Simar Ka 2: Oswals unaware of Vivaan Reema marriage huge siyappa ahead (Upcoming Twist)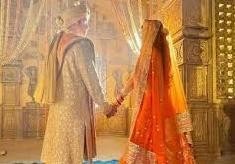 Sasural Simar Ka 2: Reema gets married to Vivaan
Star Plus show Sasural Simar Ka season 2 is gaining a lot of attention due to its storyline.
It was earlier seen that Reema is not happy with the way things have changed in her life.
She wants to get everything back that belonged to her.
Shockingly Reema will ask Vivaan to marry her and she needs a roof for shelter and a compassionate husband like her.
Reema very well knows that Vivaan use to love her once upon a time and hence she is taking advantage of this.
Reema enters Oswal house as bahu
Vivaan on the other hand is trapped in her fake story and will promise to marry her.
Will the Oswal family to be able accept Reema as their bahu or not?
Stay tuned to this space for more updates.