Sasural Simar Ka 2: Disappointed with life Reema commits suicide (Upcoming Twist)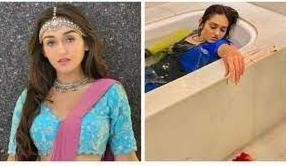 Sasural Simar Ka 2: Disappointed Reema commits suicide
Star Plus show Sasural Simar Ka season 2 is gaining a lot of attention due to its storyline.
It was earlier seen that Choti Simar will not take Reema's nonsense anymore and in fact gives her a reality check that how due to her selfish act everyone's life is ruined.
On the other hand Narayan Family is also not willing to forgive Reema and therefore throws her out of the house in anger.
Reema couldn't participate in the beauty pageant while her dream to get married in the Oswal family also remained unfulfilled.
Reema leaves everyone shocked
In her devastated state of mind, Reema is speculated to attempt suicide.
Actress Tanya Sharma shared a BTS picture from the sets of the show wherein she is seen lying unconscious in a bath tub while there're blood stains that indicates that she has slit her wrist.
Stay tuned to knows what going to happen next in the show.