Sasural Simar Ka 2: Aarav Simar come close due to Geetanjali's torture on Simar (Upcoming Twist)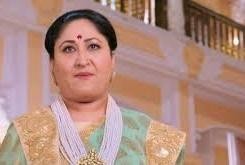 Sasural Simar Ka 2: Geetanjali tortures Simar
Star Plus show Sasural Simar Ka season 2 is going to witness lots of twist and turns in upcoming episodes.
It seems that Geetanjali is not happy of the fact that Simar got married to Aarav without the consent of the family.
Geetanjali Devi hates Simar so much that when Simar and Aarav have food, she pours the hot tea on Simar's hand.
Simar stands silent shivering in pain while Aarav gets super frustrated at Geetanjali.
Geetanjali's hate towards Simar is not only hurting Simar but is also making Aarav take care of her.
Geetanjali's plan backfires
Aarav feels bad for Simar seeing how badly Geetanjali is torturing her.
While Geetanjali thinks that she is tormenting Simar, she is actually getting Aarav closer to Simar.
Stay tuned to knows what going to happen next in the show.