Sasural Simar Ka 2: Aarav disapproves Simar passion of becoming Radio Jokey (Upcoming Twist)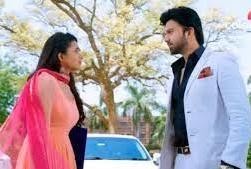 Sasural Simar Ka 2: Aarav shows objection towards Simar's passion
Star Plus show Sasural Simar Ka season 2 is going to witness lots of twist and turns in upcoming episodes.
It seems that Aarav and Simar planning to get divorced after a month and till than Aarav wants Simar to do the duties of a wife and take care of the reputation of the Oswal family.
Simar will soon get the biggest opportunity of his life as she will be selected for the job of a Radio Jokey.
However this will not go down well with Aarav as he expected Simar to stay at home and take care of his family.
Simar takes stand against Aarav
Singing in the biggest passion of Simar life as she can do anything for it.
Will Simar go against Aarav or not?
Stay tuned to knows what going to happen next in the show.
Latest Sasural Simar Ka 2 Updates