MHRW: Pallavi ask Sunny to sketch bread man Raghav Pallavi shocked (Upcoming Twist)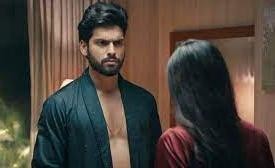 Mehndi Hai Rachne Waali: Pallavi shocked to know bread man identity
Star Plus show Mehndi Hai Rachne Waali is getting spicy with each passing episode.
It seems that Pallavi is leaving no stone unturned to expose the real culprit behind the jewellery robbery.
She wil go to Sunny and will show him a picture.
She will later ask Sunny to fill the face on the picture with bread.
Pallavi and Raghav will be shocked to see the result and will not be able to believe their eyes.
It is heard that the real culprit is from the Deshmukh house as that person didn't want Pallavi and Raghav to live a peaceful and happy life.
Bread man falls in trap
Will Pallavi be able to forgive the person or not?
Will Raghav be able to teach the real culprit a lesson?
Stay tuned for more updates only on Serialxpress.com.