YRKKH: Narendra breaks down seeing Saroj on dead bed (Upcoming Twist)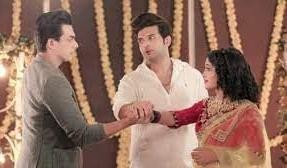 Yeh Rishta Kya Kehlata Hai: Narendra shed tears of sorrow
Star Plus show Yeh Rishta Kya Kehlata Hai is going to witness some high voltage drama.
It seems that Saroj will fall from her stair case and will be rushed to hospital where the doctors will announce that her life is in danger and she is on dead bed.
Ranveer and Sirat will feel that Narendra is behind this accident as Saroj attended their wedding.
Though Narendra will be shedding tears of sorrow Ranveer and Sirat will not believe him.
Later Ranveer's sister will clear the air that Narendra did not harm Saroj but instead she fell on her own.
Ranveer Sirat turn defensive
The doctors will soon reveal that Saroj is not responding to the medicine hence leaving Ranveer and Sirat in shock.
Keep watching this site to know what more is coming up in the show.
Latest Yeh Rishta Kya Kehlata Hai Updates