YRKKH: Ranveer Sirat post wedding ritual brings Goenkas together (Upcoming Twist)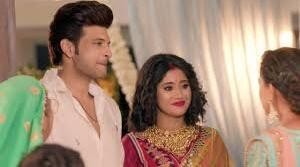 Yeh Rishta Kya Kehlata Hai: Ranveer Sirat enjoy post wedding ritual
Star Plus show Yeh Rishta Kya Kehlata Hai is one of the best shows on the channel.
It seems that Ranveer and Sirat will go to Goenkas as she needs to perform few ceremonies after her marriage.
Both Ranveer and Sirat will be asked to take out a ring from a tub full of water.
The person who wins this competition is the one who rules in his marriage.
Ranveer will get Kartik's full support and Sirat will be supported by the rest of the Goenka family.
Kartik makes Ranveer comfortable
Unfortunately Sirat will lose to Ranveer and takes out her anger on Kartik as he was supporting her.
The Goenkas will enjoy this light time with Sirat and Ranveer.
Keep watching this site to know what more is coming up in the show.
Latest Yeh Rishta Kya Kehlata Hai Updates