YRKKH: Saroj life in danger Ranveer Sirat blame Narendra (Upcoming Twist)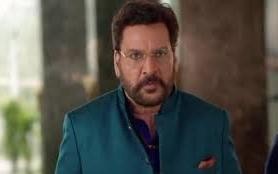 Yeh Rishta Kya Kehlata Hai: Ranveer point fingers on Narendra
Star Plus show Yeh Rishta Kya Kehlata Hai is going to witness some high voltage drama.
It seems that Saroj will fall from her stair case and will be rushed to hospital where the doctors will announce that her life is in danger.
Ranveer and Sirat will feel that Narendra is behind this accident as Saroj attended their wedding.
Both Ranveer and Sirat will be pointing fingers at Narendra for harming Saroj and taking revenge from them indirectly.
Ranveer last warning to Narendra
Though Narendra is not at fault but he will not be able to prove his innocence in front of everyone.
Kartik on the other hand will feel that Narendra is becoming very dangerous as he is harming his own family.
Keep watching this site to know what more is coming up in the show.
Latest Yeh Rishta Kya Kehlata Hai Updates