Imlie: Malini disheartened as Imlie makes shocking announcement (Upcoming Twist)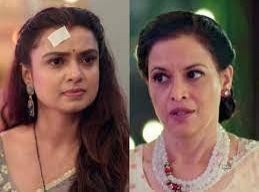 Imlie: Malini disappointed by Imlie
Star Plus' latest offering Imlie is making a lot of head turn with its storyline.
It seems that Anuja sees Imlie in the hospital in Dev's room and gets angry.
She gets furious and bad mouths about Imlie and her background.
She asks the hospital authorities to kick her out of the hospital.
Frustrated Anuja will also raises her hand on Imlie, however, Imlie who has now decided to speak for herself hold her hand and gives it back to her. She tells Anuja that now she will not tolerate her nonsense.
Imlie disgusted with Anuja
Later, Imlie tells Anuja that she promises to never ever meet Dev and this is not because Anuja has demanded the same, she is rather doing a favour on her.
Malini and Dev stand their being extremely disappointed with Imlie's decision.
Let's see what will happen next in the show.