GHKKPM: Post huge showdown Pakhi demand Sai to leave Chavan Nivas (Upcoming Twist)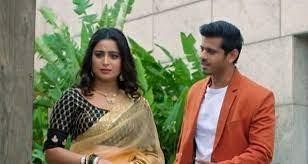 Ghum Hai Kisi Ke Pyaar Mein: Sai asked to leave Chavan Nivas
Star Plus show Ghum Hai Kisi Ke Pyaar Mein is going to witness major clash between Sai and Pakhi.
It was earlier seen that Sai will hear half truth and creates a scene in front of the Chavan family.
She will expose Pakhi and Virat relationship in front of the entire family and makes them feel embarrassed.
Virat will try to stop Sai but his efforts will go in vain.
On the other hand Pakhi will get angry with Sai for crossing her limits once again and bad mouthing about her.
Pakhi smashing reply to Sai
Pakhi will remind Sai that she is just a guest in Chavan Nivas and Virat got married to her forcefully and took the responsibility of her education.
She will ask Sai to leave Chavan house if she is not ahppy to stay with them.
Make sure you check out Serialxpress.com because we update you every minute.
Latest Ghum Hai Kisi Ke Pyaar Mein Updates