GHKKPM: Post major heartbreak & betrayal Virat pins Sai down (Upcoming Twist)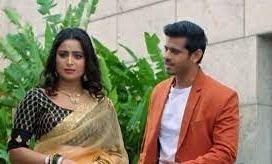 Ghum Hai Kisi Ke Pyaar Mein: Sai pinned down by Virat
Star Plus show Ghum Hai Kisi Ke Pyaar Mein is going to witness some intense moments between Sai Virat and Pakhi.
It seems that Sai will overhear that Virat and Pakhi were in love and wanted to marry each other.
This fact will have a huge impact on Sai as she will feel that Virat cheated on her by hiding such a huge truth.
Virat will try to talk to Sai but she will not agree to listen to his explanation.
Crack in Virat Sai marriage
Later Virat will hold Sai against the wall so that he can talk to her and clear her misunderstanding.
Sai is deeply hurt and deep inside she has fallen in love with Virat and never thought such a thing will happen.
Make sure you check out Serialxpress.com because we update you every minute.
Latest Ghum Hai Kisi Ke Pyaar Mein Updates