GHKKPM: Sai condemns Pakhi Virat illicit relationship in front of Chavan family (Upcoming Twist)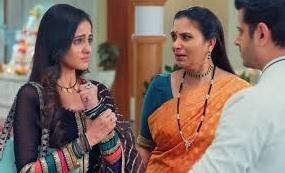 Ghum Hai Kisi Ke Pyaar Mein: Sai expose Pakhi Virat in front of family
Star Plus show Ghum Hai Kisi Ke Pyaar Mein is going to witness a huge misunderstanding between Sai and Virat.
It seems that Sai will overhear Virat and Pakhi's conversation where Pakhi will remind Virat about his promise to marry her and always to love her no matter what.
This will have a huge impact on Sai as she will not be bale to believe her ears.
Sai will go ahead and expose Pakhi and Virat's relationship in front of the Chavan family and will ask for explanation.
Sai humiliates Pakhi Virat
Even though Virat will try to stop her from doing so but she will be too adamant to listen to anyone.
Will Sai be able forgive Virat or not?
Make sure you check out Serialxpress.com because we update you every minute.
Latest Ghum Hai Kisi Ke Pyaar Mein Updates