BALH 2: Neeraj attempt to get cosy with Priya backfire humiliation time ahead (Upcoming Twist)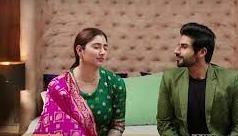 Bade Achhe Lagte Hain 2: Neeraj tries to get cosy with Priya
Sony Entertainment daily popular show Bade Ache Lagte Hai season 2 is currently revolving around Priya leaving the party as she is angry with Ram.
It seems that things are not getting normal between Ram and Priya as Vedika is trying her level best to separate them.
Vedika will get Neeraj on her team and instruct him to come close to Priya.
However Priya will soon teach him a lesson and show his real position to him.
Priya will reveal that she hates the way he applies Gel in his hair and only talks to him nicely due to her sister Maitri.
Priya makes fun of Neeraj
Neeraj will get upset and will leave Priya alone and walk out of the room in anger.
Will Priya be able to reveal feeling about Ram or not?
Will Priya and Ram be able to unite or not?
For more exciting updates, stay tuned to Serialxpress.com.