Anupamaa: Anupamaa bakes cake for Anuj increase heartbeats (Upcoming Twist)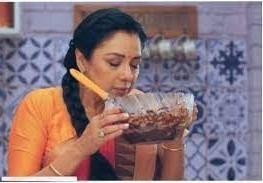 Anupamaa: Anupamaa bakes cake for Anuj
Star Plus show Anupamaa is revolving around Anupamaa falling in love with Anuj.
It seems that Anupamaa is slowly but steadily falling in love with Anuj and is not able to accept her feeling openly.
Anupamaa knows that Anuj loves chocolate a lot and hence will bake a cake for Anuj to make him feel special.
Anuj will confess his love for the chocolate but the way he says it will increase Anupamaa's heartbeats. "Main tumse sacha pyar karta hun," says Anuj, leaving Anupamaa all stunned only to realise that he was just expressing his love for the chocolate.
Anupamaa fall for Anuj a little more every day and not just in a filmy way to make it look like it happened overnight.
Anupamaa falls in love
While on one day, Anupamaa starts thinking of Anuj after Babuji tells her that he's the man for her, in another scene, she gets to know about the depth of Anuj's love for her.
She gets to know that it was Anuj who silently kept her magnets with him all these years after she lost them once on the college campus.
These tiny details are growing on Anupamaa and will eventually lead her to Anuj's life and his heart forever.
Stay tuned for more such updates only on Serialxpress.com.