Anupamaa: Anu Anuj teenage romance blossom Anu silly ways to impress Anuj (Upcoming Twist)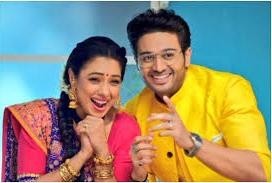 Anupamaa: Anupamaa silly ways to impress Anuj
Star Plus show Anupamaa is revolving around Anupamaa getting attracted towards Anuj.
It seems that Anupamaa is not able to stop thinking about Anuj as suddenly he has become a very important part of her life.
Anupamaa will start behaving life a teenager and will start blushing at the thought of Anuj.
She will be making chocolate halwa for Anuj to impress him and make him feel special.
Anupamaa is also not able to understand the sudden change in her behaviour towards Anuj as she will keep dreaming about it.
Anuj on the other hand will start feeling that Anupamaa is behaving little weird and gets concern.
Anuj Anupamaa in love
Anupamaa and Anuj are together reliving the golden era of their life that they missed due to Anupamaa's early marriage.
Will Anupamaa and Anuj be able to unite or not?
Will Anupamaa and Anuj be able to move forward in life together or not?
Stay tuned for more such updates only on Serialxpress.com.