Anupamaa: Vanraj Shah shares feelings with Anupamaa erase Kavya from heart (Upcoming Twist)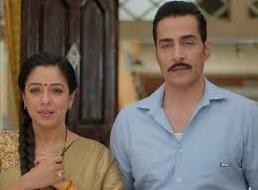 Anupamaa: Vanraj shares feeling with Anupamaa
Star Plus show Anupamaa is revolving around Vanraj feeling disappointed with Kavya.
It seems that Vanraj will go to talk to Vanraj and share his feelings with her.
He will be heavily disappointed by Kavya as she backstabbed him and took the property from him that belonged to his parents.
Vanraj will talk about his feeling to Anupamaa and reveals that Kavya's this move has hurt him a lot and he is feeling very lonely.
He will further reveal in front of Anupamaa that after this incident Kavya has erased her name from his heart forever.
Vanraj angry with Kavya
Anupamaa will be shocked to hear this from Vanraj and will feel sorry for him as he is facing the biggest defeat of his life.
Vanraj on the other hand will vow to teach a lesson to Kavya by being as successful as he was before.
Will Vanraj be able to gain success once again or not?
Stay tuned for more such updates only on Serialxpress.com.