Anupamaa: Vanraj sings song to help Baa calm down glimpse of flashback ahead (Upcoming Twist)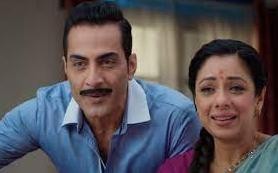 Anupamaa: Vanraj sings song to help Baa calm down
Star Plus show Anupamaa is revolving around the entire family getting stressed out due to Baa's medical condition.
It seems that Pakhi will ask Vanraj to sing the song that he use a sing when she was a little kid to help her sleep.
The entire family will insist Vanraj to sing for Baa to make her feel happy and relax.
Vanraj will start singing 'Ek Dusre Se Karte Hai Pyaar Hum Ek Dusre Ke Liye Bakaraar Hum,Ek Dusre Ke Vaaste Marna Pare toh Taiyaar Hum'
This will bring back all the beautiful memories of past when the family lived and enjoyed their life together.
Vanraj broken from within
Baa will fall asleep as Vanraj continues to bring the song for her.
Will Shah family be able to have peace and harmony back in their life or not?
Will Vanraj be able to get his house back from Kavya or not?
Stay tuned for more such updates only on Serialxpress.com.