Pandya Stores: Furious Suman decides to leave Pandya house details ahead (Upcoming Twist)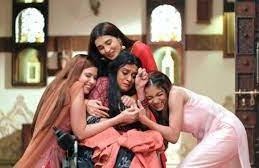 Pandya Stores: Suman decides to leave Pandya house
Star Plus show Pandya Stores is revolving around Suman feeling neglected by her family.
It was earlier seen that Suman is very angry with her sons and daughter in laws as every time there is a function in house her family creates drama.
Suman will hence decide to leave the house and go to Haridwar as she feels that her family doesn't need her anymore.
Suman will be angry with Shivaa and Raavi for not talking about their true feelings in front of everyone and creating so much drama.
Suman will also get angry with Dhara as due to her everyone in the house doesn't value her.
Suman angry with Dhara
Dhara along with the rest of the family will fall on her leg and ask forgiveness.
Will Suman be able to change her plan to leave Pandya house or not?
Will Suman be able to accept Shivaa and Raavi relationship or not?
Stay tuned for more such updates only on Serialxpress.com.