Pandya Stores: Dev scared to face Rishita expectation major clash ahead (Upcoming Twist)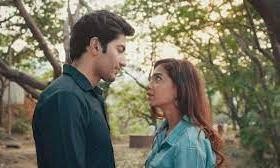 Pandya Stores: Dev fails to make Rishita happy
Star Plus show Pandya Stores is revolving around cute romance between Dev and Rishita.
It seems that Dev and Rishita are very happy after knowing that Shivaa and Raavi have united once again.
Dev will be pleased to know that Rishita was involved in bringing Shivaa and Raavi together.
The two will be seen happy and romancing with each other.
Rishita will soon talk about the Goa trip that Dev had planned and will demand to go there as fast as possible.
Shockingly Rishita is not aware of the fact that Dev has already sold the tickets without asking her.
Rishita disappointed by Dev
Rishita will be very excited and will start planning her vacation unaware of the fact that Dev is not willing to take her anywhere.
Will Rishita be able to know the truth about her Goa trip or not?
Will Rishita and Dev be able to go to Goa or not?
Stay tuned for more such updates only on Serialxpress.com.