YRKKH: Abhimanyu's hallucination breaks with Akshara huge denial (Upcoming Twist)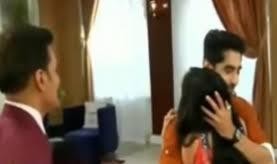 Yeh Rishta Kya Kehlata Hai: Abhimanyu hallucination breaks due to Akshara
Star Plus show Yeh Rishta Kya Kehlata Hai is revolving around Akshara rejecting Abhimanyu's love.
It seems that Abhimanyu is on cloud nine as he is ready to start a fresh life with Akshara by his side.
He will confidently bring Akshara to his house as he knows that Akshara loves him as well.
He will be seen hallucinating about Akshara being a part of his life and family and sending time with him.
However things will soon take a dramatic twist as Akshara will break Abhimanyu's heart and reveals that she never loved him or promised him anything.
Abhimanyu heartbroken due to Akshara
Abhimanyu will get the biggest shock of his life as he is not able to believe that Akshara rejected his love.
Will Abhimanyu be able to get to the bottom of Akshara's heart or not?
Will Abhimanyu be able to forgive Akshara or not?
Keep watching this site to know what more is coming up in the show.