YRKKH: Post rejection Abhimanyu lose control meets sudden accident (Upcoming Twist)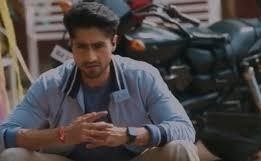 Yeh Rishta Kya Kehlata Hai: Abhimanyu meets with sudden accident
Star Plus show Yeh Rishta Kya Kehlata Hai is revolving around Akshara rejecting Abhimanyu's love.
It seems that Abhimanyu is over confident that Akshara also loves him the way he loves her and hence the moment Akshara rejects Abhimanyu's proposal he is not able to digest this fact.
Akshara will break Abhimanyu's heart and leave Birla house.
Later Abhimanyu will be lost in his thoughts as he never imagined that Akshara is not in love with him.
Abhimanyu will be going to his room and will slip from the staircase and falls down.
Manjiri feels sorry for Abhimanyu
This will leave Manjiri and Harshwardhan in tears as they cannot see Abhimnayu in such a condition.
Akshara on the other hand will be seen crying as she made this sacrifice for Aarohi.
Will Abhimanyu allow Akshara to walk out of his life so easily?
Keep watching this site to know what more is coming up in the show.