Anupamaa: Anupamaa gets signal of love from God Babuji turns mediator (Upcoming Twist)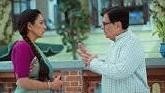 Anupamaa: Anupamaa gets signal of love from God
Star Plus show Anupamaa is revolving around Babuji making Anupamaa realise the importance of love in one's life.
It seems that Babuji will soon reveal in front of Anupamaa that she should give love a chance in her life.
Babuji will ask Anupamaa to welcome love in her life in the form of Anuj.
He will call Anuj the gift of god for Anupamaa and she should appreciate it.
Anupamaa will be shocked to listen to Babuji as she doesn't believe in marriage anymore due to Vanraj.
However Babuji will reveal that she never got love from Vanraj maybe because she was destined for better thing in life.
Anupamaa confused due to Babuji
Anupamaa will get confused as she will not understand how to respond to Babuji's request.
Will Anupamaa and Anuj be able to unite or not?
Will Anupamaa be able to give love a second chance or not?
Stay tuned for more such updates only on Serialxpress.com.