Pandya Stores: Suman berates Dhara for conspiring behind her back (Upcoming Twist)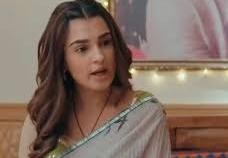 Pandya Stores: Suman berates Dhara for conspiring
Star Plus show Pandya Stores is revolving around Pandya family.
It seems that Dhara will soon reveal in front of everyone that she tried her level best to stop the divorced but failed.
Shivaa will soon reveal that he saw Dhara and Rishita in court and understood why they had gone there.
Soon Suman will lose her cool as she feels that Dhara and Rishita are conspiring behind her back as they don't want Raavi and Shivaa to part ways.
Dhara face Suman's anger
Suman will throw water on Dhara to make her realise that she is just the bahu of the house and should stop behaving life a saas.
Gautam will also get angry with Dhara as she is not suppose to take stress as it's not good for the child.
Will Dhara be able to do something that can stop Shivaa and Raavi from parting ways forever or not?
Stay tuned for more such updates only on Serialxpress.com.
Latest Pandya Store Updates