Pandya Stores: Rishita warns Keerti to stay away from Krish love in air (Upcoming Twist)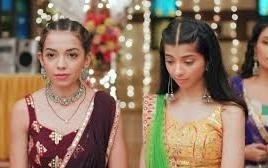 Pandya Stores: Rishita wants Keerti to stay away from Krish
Star Plus show Pandya Stores is revolving around Pandya family.
It seems that Keerti will come to Rishita's house to get the washing machine and geyser fixed in the bathroom.
Keerti will secretly be searching for Krish in Pandya house as he will not be seen around.
Later Krish will be seen coming out of bathroom after having a bath in his towel and Keerti will be making fun of him.
Rishita will soon see Keerti and Krish talking and joking around and warns her to stay away from Krish as it's not good.
Keerti loves Krish secretly
She doesn't want Janardhan's second daughter to also come and stay in Pandya Nivas as bahu.
Keerti on the other hand has started falling in love with Krish secretly.
Will Keerti and Krish be able to unit or not?
Will Rishita allow Keerti to come close to Krish or not?
Stay tuned for more such updates only on Serialxpress.com.