MHRW: Keerti understands Esha's game plan sympathise with Pallavi (Upcoming Twist)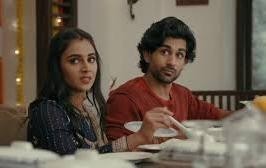 Mehndi Hai Rachne Waali: Esha game plan revealed in front of Keerti
Star Plus show Mehndi Hai Rachne Waali is revolving around Esha planning and plotting against Raghav and Pallavi's alliance.
It seems that Pallavi discusses Raghav's changed behaviour with Keerti and she feels sorry that Pallavi doesn't have any idea about what had happened.
Keerti asks her to stay positive and things would improve.
Farhaad cheers Raghav up and tells him to talk to Pallavi and apologize.
Raghav agrees and tells him to give his staff an off as it's a big day for them.
Sunny and Esha knit another plan to separate Pallavi and Raghav.
Sunny and Esha tell Pallavi that its Amma's birthday.
Sunny Esha trap Pallavi
Furthermore, Pallavi gears up for a major celebration.
Keerti, Amma and Raghav enter Rao mansion wearing white clothes. Raghav gets shocked to see celebration vibes.
He tells Pallavi that it's the worst day of their lives as it's his father's and brother's death anniversary.
Stay tuned for more updates only on Serialxpress.com.