Anupamaa: Rohan deadly attack on Anupamaa spoilt by Anuj (Upcoming Twist)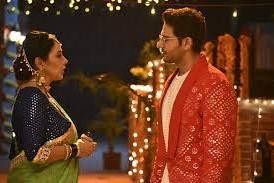 Anupamaa: Rohan deadly attack on Anupamaa
Star Plus show Anupamaa is revolving around Rohan's possessiveness towards Nandini.
It was earlier seen that Rohan is losing his cool and trying to harm Nandini and Samar.
Rohan can go to any extend to create problem between Samar and Nandini and will hence make up his mind to attack Anupamaa as he knows that Samar is very close to his mother and if anything happens to Anupamaa it will affect Samar the most.
He will get a bamboo stick and will be about to hit Anupamaa on her head but Anuj will come on time and saves Anupamaa.
Anuj will give a blow to Rohan and will warn him to leave Shah family alone.
Anupamaa grateful towards Anuj
Anupamaa on the other hand will be very grateful towards Anuj for saving her life.
Will Anuj be able to share his true feelings to Anupamaa or not?
Will Rohan be able to leave Shah family alone or not?
Stay tuned for more such updates only on Serialxpress.com.