Pandya Store: Disha turns third wheel in Raavi Shiva's relationship (Upcoming Twist)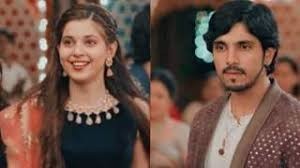 Pandya Store: Disha's entry stirs chaos in Shiva (Kunwar Dhillon) and Raavi's (Alice Kaushik) life
Star Plus popular daily soap Pandya Store is gearing up for interesting twist and drama.
Suman is irked of Raavi being in Shiva's life and is ready to cross any limit to get her out.
Suman finds Disha for Shiva and wants him to accept her and marry her leaving Raavi.
Disha is no less as she is all after Shiva and wants him by hook or by crook.
Disha kiss Shiva
Shiva tells her about him and Raavi and their relationship while Disha don't mind it and just wish to have Shiva by her side.
Disha even kiss Shiva and he is left stunned, Raavi even witness this and couldn't understand what to do.
Shiva and Raavi's relationship is at stake and things are going to change thereafter.
Will Suman get successful in getting Shiva and Disha married, stay tuned for more exciting updates only on entertainment news website serialxpress.com