Pandya Stores: Dhara Rishita turn typical Devrani-Jethani to torture Disha (Upcoming Twist)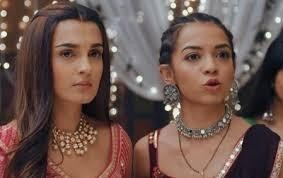 Pandya Stores: Dhara Rishita to trouble Disha in Pandya house
Star Plus show Pandya Stores is revolving around Suman's attempt to get Shiva married once again.
It seems that Shivaa and Raavi's divorce has affected Suman a lot and she will decide to find a girl for Shivaa who is better than Raavi.
Suman's friend's daughter Disha will come to Pandya house during the garba.
Suman will introduce Disha as Shivaa's fiancée and leave everyone surprised.
Soon Dhara and Rishita will join hand to stop Shivaa and Disha's union.
After Disha's entry into the house, Dhara and Rishita team up to keep her away from Shiva and fight for Raavi against Suman.
Dhara Rishita declare war against Suman
The Devrani and Jethani are all set to call out a battle against Suman's decision.
Do you think Suman will let this happen?
Will Dhara and Rishita be able to kick Disha out of their house or not?
Stay tuned for more such updates only on Serialxpress.com.