Anupamaa: Nandini runs away to US shocking life changing events ahead (Upcoming Twist)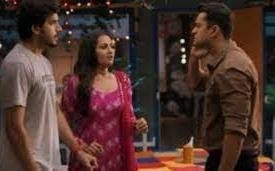 Anupamaa: Nandini goes back to US
Star Plus show Anupamaa is revolving around Nandini and Samar's life.
It seems that Anupamaa will witness Nandini running with her luggage.
Anupamaa will confront Nandini as why she is looking so distorted and what is playing in her mind.
Nandini will soon reveal that she is leaving for US.
This will come as a shock for Anupamaa and she will confront Nandini about the same.
Nandini will soon inform Anupamaa that Rohan will kill Samar if she doesn't leave immediately for US.
This will come as a huge shock for Anupamaa as Rohan is blackmailing Nandini and making her dance on his finger tips.
Rohan threatens Nandini
Nandini will be too scared to confront Rohan and will hence decide to leave Samar for his betterment.
Will Anupamaa be able to end Rohan and his madness or not?
Will Anupamaa be able to save Nandini and Samar from Rohan's evil activities?
Stay tuned for more such updates only on Serialxpress.com.