Anupamaa: Anupamaa Anuj touch of love leaves Vanraj heartbroken (Upcoming Twist)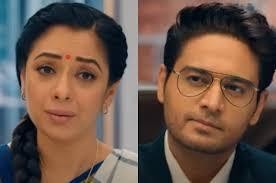 Anupamaa: Vanraj heartbroken to see Anupamaa Anuj
Star Plus show Anupamaa is revolving around Vanraj's incapability to see Anupamaa and Anuj together.
It seems that Anupamaa will be about to fall but just than Anuj will give his hand and support Anupamaa and stop her from getting hurt.
Anuj will once again go in his dream world and enjoys holding Anupamaa's hand.
Vanraj will accidently see Anuj and Anupamaa holding hands and this will leave him heartbroken.
He will feel bad that even after getting married with Kavya he has soft corner for Anupamaa and cannot see her with anyone.
Vanraj unable to overcome past
Vanraj will soon come up with some plan to create problem in Anupamaa and Anuj's life.
Anupamaa on the other hand will get tired defending her relationship with Anuj.
Will Vanraj be able to expose Anuj's true feeling in front of Anupamaa or not?
Stay tuned for more such updates only on Serialxpress.com.