Anupamaa: Anuj Good boy act takes Anupamaa's permission before appointing Kavya (Upcoming Twist)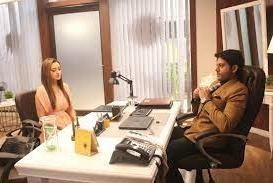 Anupamaa: Anuj takes Anupamaa's permission
Star Plus show Anupamaa is revolving around Kavya's attempt to seek job from Anuj.
It was earlier seen that the problem between Kavya and Vanraj is getting out of control and she will hence decide to join Anuj's company.
Kavya will go to Anuj's office to meet him and talk about the job that he had offered her sometime back.
However Anuj will leave the decision of Kavya's job in Anupamaa's hand as he feels that Anupamaa is his partner and since Kavya and Anupamaa's relationship is strained hence he should ask Anupamaa first if she is comfortable about Kavya joining their team.
Anupamaa in dilemma
Anupamaa will have to take a huge decision as now she has to tolerate Kavya in house as well as office.
Will Anupamaa be able to take the right step or not?
Stay tuned for more such updates only on Serialxpress.com.