Anupamaa: Anupamaa no nonsense strategy leaves Vanraj in crisis (Upcoming Twist)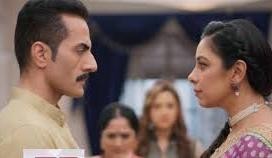 Anupamaa: Anupamaa no nonsense strategy ahead
Star Plus show Anupamaa is revolving around Anupamaa's outburst.
It seems that Anupamaa is no more able to control her anger and disappointment towards Vanraj and Baa.
She will plan to confront Vanraj and show him his real place in her life.
Anupamaa will stand on Vanraj's level and will talk to him very harshly and makes him realise that he is not able to digest her success.
Vanraj will disagree with Anupamaa but Anupamaa will make sure that this time she gives a reality check to Vanraj as she no longer wants to tolerate Vanraj and his non sense.
Anupamaa befitting reply to Vanraj
Baa will be shocked at Anupamaa's boldness as never before Baa or Vanraj have seen such an angry side of Anupamaa.
Will Vanraj and Baa be able to stop troubling Anupamaa further or not?
Will Anupamaa be able to fight for her self-respect or not?
Stay tuned for more such updates only on Serialxpress.com.