YRKKH: Kairav shuts door on Sirat's face major shift in storyline (Upcoming Twist)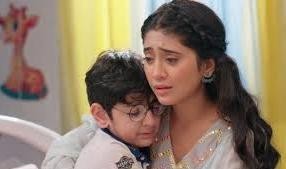 Yeh Rishta Kya Kehlata Hai: Kairav shuts door on Sirat's face
Star Plus show Yeh Rishta Kya Kehlata Hai is revolving around Kairav being upset with Sirat and Kartik.
It seems that Kairav is upset with the fact that both Kartik and Sirat were not able to participate in his award function.
He will be hurt by Sirat as his expectation with Sirat is very high and he got disappointed.
Shockingly Sirat will try to have a talk with him and make him explain her situation and why she couldn't come to the award function but Kairav will be very angry with Sirat and will shut the door on her face.
Sirat leaves Kairav disappointed
Sirat is very scared as she doesn't want Kairav to have any wrong feelings for her and will hence come up with a plan to win his confidence and love back.
Will Kairav be able to forgive Sirat or not?
Keep watching this site to know what more is coming up in the show.
Latest Yeh Rishta Kya Kehlata Hai Updates