Anupamaa: Anupamaa enters corporate world with bang Anuj turns teacher (Upcoming Twist)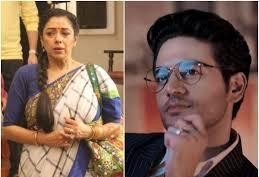 Anupamaa: Anupamaa enters corporate world
Star Plus show Anupamaa is revolving around Anupamaa's entry in Anuj's life.
It seems that Anupamaa will go against the social norms as she wants to go head in life and reach the sky.
Anupamaa will go to meet Anuj Kapadia in his office and will agree to be his partner but will put forwards her concern.
She will reveal in front of Anuj that she has never left the house and has no idea about the ways things function in corporate world.
Anuj wins Anupamaa's heart
Anuj will ask Anupamaa to relax as he will help her out in each and every step of her life as a teacher.
Anupamaa will be getting extremely emotional as for the first time someone has made her feel important and not unworthy.
Will Anuj's cute tactics be able to win Anupamaa's heart or not?
Stay tuned for more such updates only on Serialxpress.com.