Anupamaa: Babuji jumps in to defend Anupamaa reprimands Vanraj Toshu (Upcoming Twist)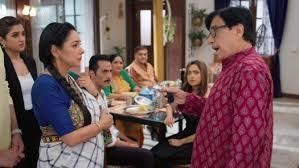 Anupamaa: Anupamaa gets Babuji's support
Star Plus show Anupamaa is revolving around Anupamaa being treated badly by the family.
It seems that it's the first day of work for Anupamaa but instead of being nicely and positive towards her Vanraj Baa and Toshu will make her feel guilty for putting forward her dream instead of the family.
Babuji will notice the tough decision that Anupamaa has to make and will hence help her out.
He will reprimand Vanraj and Toshu for not being nice to Anupamaa and discouraging her.
He will later hand over the keys of his car to Anupamaa and will ask her to drive alone and think about what she wants to do in life.
Vanraj unable to accept Anupamaa's success
Babuji will once again support Anupamaa instead of Vanraj and will encourage her to chase her dreams.
Will Anupamaa be able to prove herself or not?
Will Vanraj and Toshu be able to digest Anupamaa's success or not?
Stay tuned for more such updates only on Serialxpress.com.