Anupamaa: Anupamaa Anuj partnership rock the base of Shah family (Upcoming Twist)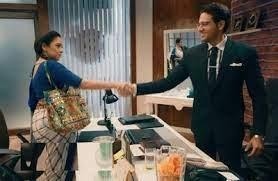 Anupamaa: Anupamaa and Anuj partnership change Shah family forever
Star Plus show Anupamaa is revolving around Anupamaa's new and beautiful change in life.
It was earlier seen that Anupamaa and go against her entire family and signs the partnership deed with Anuj.
This will leave the entire Shah pariwar angry as no one is ready to accept the fact that Anupamaa will soon become a business woman and will achieve far moiré than Vanraj or Kavya could have ever imagined in their life.
Anupamaa will go to Anuj's office and will shake hands with him and will call in their new partnership with lots of success and positivity.
Anupamaa taste success
Anupamaa and Anuj want to rock their new partnership and leave all the mouth close who doubt on Anupamaa capability.
Will Anupamaa be able to prove herself or not?
Will Vanraj be able to stop Anupamaa for dreaming or not?
Stay tuned for more such updates only on Serialxpress.com.