Anupamaa: Kavya kitchen politics against Anupamaa (Upcoming Twist)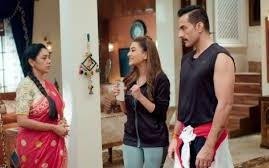 Anupamaa: Kavya does kitchen politics against Anupamaa
Star Plus show Anupamaa is revolving around Vanraj Kavya and Toshu avoiding Anupamaa.
It was earlier seen that Kavya Vanraj Baa and Toshu are against the idea of Anupamaa joining Anuj's business and will hence turn hindrance against her.
Baa and Toshu will avoid Anupamaa on the breakfast table and will ask Kavya to serve them food.
Kavya will be more than willing to take Anupamaa's place and serve them food.
Anupamaa will feel bad that her own family is not able to understand her feeling.
Baa doubts on Anupamaa's character
Samar and Kinjal will try to encourage Anupamaa to think positive and ignore the hatred that she is receiving from the family.
However Anupamaa will be seen shedding tears of sorrow as she cannot understand the reason behind the family doubting on her character after staying with them for 26 years.
Will Anupamaa be able to prove her family wrong or not?
Stay tuned for more such updates only on Serialxpress.com.