Anupamaa: Self obsessed Vanraj unable to control Anupamaa ambition (Upcoming Twist)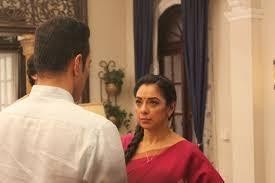 Anupamaa: Vanraj fails to control Anupamaa's ambition
Star Plus show Anupamaa is revolving around Vanraj not able to digest Anupamaa's success.
It seems that after a lot of ups and down Anupamaa will finally get the biggest opportunity of her life.
However things are getting very complicated in Shah house as no one is happy with Anupamaa's success.
Vanraj will openly threaten Anupamaa to not go ahead and sign the agreement with Anuj as he will not allow her to work with Anuj at any cost.
Anupamaa goes against Shah family
However Anupamaa will make it very clear that he is no more her husband and has any kind of right or control over her.
Vanraj will try to cut Anupamaa's wings before she can fly but Anupamaa will challenge Vanraj that nothing can come between her and success.
Will Vanraj be able to destroy Anupamaa's dreams and aspirations?
Stay tuned for more such updates only on Serialxpress.com.