Pandya Stores: Suman bashes Rishita for throwing tantrum Dev gets solution (Upcoming Twist)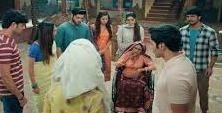 Pandya Stores: Suman gets angry with Rishita
Star Plus show Pandya Stores is going to witness some major showdown in Pandya house.
It seems that Rishita will raise her voice once again as she wants the family to make a bathroom her first rather than a bedroom for Dhara and Gautam.
This will leave Suman fuming in anger as always Rishita wants everything for herself.
Suman will bash Rishita for being selfish and only thinking about herself and no one else.
Suman will further taunt Rishita to tell her father to make a bungalow her with many bathroom and stay there and not in her house.
Rishita vows to teach Dev lesson
Shockingly Dev will also agree with Suman and will make her realise that she needs to think about other people in the family too.
Will Rishita be able to change herself or not?
Stay tuned for more such updates.
Latest Pandya Store Updates