MHRW: Sunny Kirti turn puppet Ved use them against Raghav Pallavi (Upcoming Twist)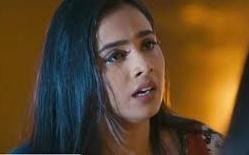 Mehndi Hai Rachne Waali: Ved use Kirti and Sunny against Raghav
Star Plus show Mehndi Hai Rachne Waali is revolving around Ved's revenge from Raghav.
It was earlier seen that Ved will secretly help Sunny to come out from jail by getting him bail.
Sunny will be grateful towards Ved for helping him out when he needed someone the most.
Shockingly Sunny and Kirti have no idea that Ved is using them against Raghav and Pallavi to seek revenge from them.
Ved knows that Raghav is very fond of his family and Kirti is his weakness.
He will therefore use Kirti as a puppet to destroy Raghav and Pallavi.
Ved backstabs Raghav
Raghav on the other hand has no idea that Ved is using his own family against him.
Will Raghav be able to stop Ved or not?
Stay tuned for more updates only on Serialxpress.com.