MHRW: Post love confession Raghav Pallavi consummate marriage (Upcoming Twist)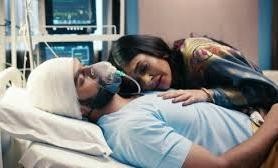 Mehndi Hai Rachne Waali: Pallavi Raghav consummate marriage
Star Plus show Mehndi Hai Rachne Waali is witnessing the new found love between Raghav and Pallavi.
It seems that after a lot of ups and down Pallavi will finally confess her love towards Raghav and this will leave Raghav shocked.
Raghav will not know how to react as he could have never imagined that Pallavi will tell him i love you.
Raghav on returning back to his house will arrange a special night with Pallavi.
He will also confess his love for Pallavi in a romantic way.
Raghav Pallavi unite
Post this huge confession Raghav and Pallavi will consummate their marriage and will vow to never parts ways.
Raghav and Pallavi will be enjoying this beautiful period of their life as they will not want it to ends so easily.
Stay tuned for more updates only on Serialxpress.com.
Latest Mehndi Hai Rachne Waali Updates