MHRW: Sunny Kirti coffee romance interrupted by Raghav Pallavi (Upcoming Twist)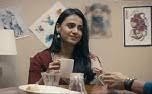 Mehndi Hai Rachne Waali: Pallavi and Raghav interrupt Raghav Pallavi romance
Star Plus show Mehndi Hai Rachne Waali is revolving around Sunny and Kirti's love story.
It seems that Kirti will be with Sunny in his workshop and enjoying some cute and romantic moments with him.
The two will be having a coffee date and Sunny will be about to kiss Kirti but just than Raghav and Pallavi will knock on his door.
Sunny and Kirti will be shocked to see Raghav and Pallavi on their doorstep and hence Sunny with ask Kirti to hide behind the door.
Sunny will be trembling in fear as he doesn't want Raghav to see Kirti with him.
Sunny Kirti tremble in fear
On the other hand Raghav will feels suspicious as Sunny is sweating seeing him.
Will Raghav come to know about Pallavi and Sunny's affair or not?
Stay tuned for more updates only on Serialxpress.com.
Latest Mehndi Hai Rachne Waali Updates