Anupamaa: Vanraj Samar lose hope as Anupamaa health deteriorates (Upcoming Twist)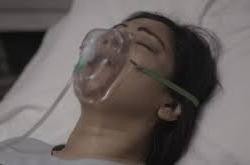 Anupamaa: Anupamaa battle with life
Star Plus show Anupamaa is currently focussing on Anupamaa's operation.
It seems that Vanraj and Samar are staying in the hospital to look after Anupamaa.
Suddenly Anupamaa will be seen struggling for her breathe and goes silent.
This will leave Vanraj and Samar in a huge shock as they will not know how to handle this situation.
Both Vanraj and Samar will beg Anupamaa to fight this battle like a fighter and will shed tears.
Anupamaa on the other hand will stop breathing leaving Vanraj and Samar shattered.
Advait scared about Anupamaa recovery
Vanraj and Samar will soon get a reality check that Anupamaa's life is in danger and she might never come back to them.
Vanraj as well as Samar will recall all the moments spend with Anupamaa and will request her to fight against this disease and come back as a warrior.
Keep hooked to this site for more updates.