Bade Achhe Lagte Hain 2: Ram dethrones Nandini in front of society Priya shocked (Latest News)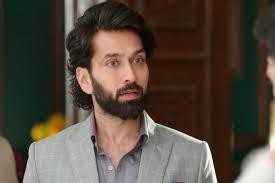 Bade Achhe Lagte Hain 2: Ram gives Nandini's place to Priya
Sony Entertainment daily popular show Bade Ache Lagte Hai season 2 is revolving around Ram and Priya coming close to each other.
It seems that the show is heading for Diwali celebration.
Priya will decide to go to the temple with the file of the new project and not break the tradition.
Ram will further go to the temple walking and not tell Priya about it.
Well, as Priya leaves the temple, a thief tries to snatch her bag.
She somehow manages to stop the thief and get the bag.
Priya shouts at the thief and tells him that she won't let anyone destroy her husband's dream.
Nandini irked with Priya
Ram will hear all this and see how bravely, Priya is fighting for him.
Soon Ram will make a shocking request to Nandini.
Ram who used to always perform pooja with Nandini will tell her to let Priya do the pooja this year.
This will irk Nandini and Priya will be surprised.
For more exciting updates, stay tuned to Serialxpress.com.