Woh Toh Hai Albela: Huge Twist! Sayuri plots against Krishna vows Revenge (Upcoming Twist)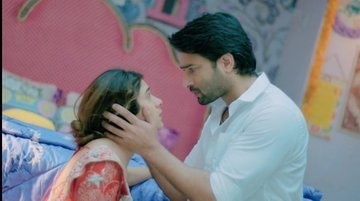 Woh Toh Hai Albela: Huge Twist! Sayuri plots against Krishna vows Revenge
The Star Bharat popular show Woh Toh Hai Albela is all set to keep it's audience hooked to their Television screens with it's high voltage drama. The drama is gearing up for many twists and turns.
Recently We have seen that Krishna stops Chiru from leaving but Chiru is adamant. Krishna even denies him from riding the Bike but he still does and unfortunately loses his Life.
Krishna's Heart breaks when Saroj accuses him for the Death of Chiru and tells him determined that she will never forgive him.
The Story takes an interesting turn when Sayuri too blames Krishna for the Death of Chiranjeev.
She furiously says that he has snatched her Father and now he has snatched Chiru from her blaming him for everything that has gone wrong in her Life. She decides to snatch his everything just like he did.
Krishna gets Broken
The Story takes an interesting turn when Sayuri plots against him and decides to get Married to him in the pretext of fulfilling Chiru's Wish but has vicious plans to hurt him.
Unfortunately Krishna himself is broken with the Death of Chiranjeev and Saroj's accusations adds salt to his wounds.
Surprisingly he agrees to get Married to Sayuri when she reminds him about Chiru's last Wish by guilt riding him.
It will be interesting to see how Krishna cops up with everything that has gone bad in his Life.
Stay Tuned to Serialxpress.com for the latest updates of your favourite shows.