GHKKPM: Virat turns Sai's Guru Dev fulfil her childhood wish (Upcoming Twist)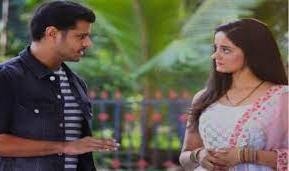 Ghum Hai Kisi Ke Pyaar Mein: Virat turns Sai's Guru Dev
Ghum Hai Kisi Ke Pyaar Mein is revolving around Virat trying to give huge surprise to Sai.
It was earlier seen that Sai will reveal in front of Virat that she always dreamed of driving a car and her Baba also promised her to teach her once she gets admission in Medical college but things changed after his death.
This will impact Virat as he will want to fulfil Sai's wish.
He will soon take Sai to learn car and becomes her teacher.
Sai dream come true
Sai will be super excited as it's her dream to drive a car and will hence call Virat her Guru Dev for teaching her how to drive a car.
Virat will be happy to see the smile and excitement in her face as she lives her dream.
Will Virat and Sai be able to live together forever or not?
Keep watching this site for more news and updates.
Latest Ghum Hai Kisi Ke Pyaar Mein Updates