Breaking News Raj Kundra file 50 cr defamation suit against Sherlyn Chopra details ahead (Upcoming Twist)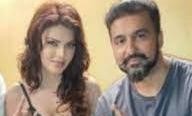 Raj Kundar get back at Sherlyn Chopra
Bollywood actor Shilpa Shetty and her husband Raj Kundra have filed a ₹50 crore defamation suit against actor Sherlyn Chopra.
The couple have also asked for a 'public apology' from Chopra.
This defamation suit comes days after Chopra lodged a complaint against Shetty and Kundra on October 14 for alleged sexual harassment, cheating, and criminal intimidation.
"I have filed a complaint to register FIR against Raj Kundra for sexual harassment, cheating and criminal intimidation." she told reporters outside Juhu police station.
Live Law reported that the defamation notice sent to Chopra claims that her allegations against Shetty and her husband are "concocted, false, frivolous and baseless…made with an ulterior motive to defame and extort money".
Shilpa maintains silence
The notice also claims that these allegations are Chopra's attempts to absolve herself from the ongoing investigation against her.
Shetty and Kundra through their lawyer have also accused Chopra of passing "lewd remarks" against them on social media and to the press.
They have also alleged that Shetty's name was dragged into the matter to "gain TRP attention" and "create unwanted controversy".